Tri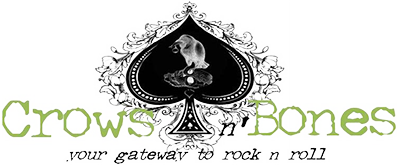 My Sleeping Karma –Tri
Review vom 27.10.10
Petros Loukas
The cleverly titled "Tri" as in third album or as in instrumental trio comes to bring a fresh wave in the Space Rock / Stoner scene. With psychedelic but not prog-shit arrangements and over 40 minutes of rewarding trippy and back-to-basics stoned as hell melodies this album has come to stay! With titles like "Shiva", "Lakshmi", "Sarasvatí" almost preparing you for the trippy experience, someone could expect another hippie crap with strange instruments from the far east but make no mistakes! This is Stoner Rock with nothing more than bass, guitar and drums and it has more in common with Orange Goblin than with any post rock or progressive clown. Give them a chance and they won't let you down!
Quelle

Mit "Tri" haben MY SLEEPING KARMA aus Aschaffenburg soeben ihr – wie der Titel schon vermuten lässt – drittes Album veröffentlicht. Der Vierer hat sich instrumentalem Post-Rock verschrieben, der sich durch einen atmosphärischen, teils auch psychedelischen Sound sowie einen meist dynamischen und fließenden Songaufbau auszeichnet. Einige Songs wirken mit etwa zwei Minuten Länge eher wie sphärische Interludes, die stärkeren sind aber die längeren, die fünf, sechs oder – wie der Opener – über sieben Minuten lang sind, sich langsam aufbauen und in denen sich die Band von schwebenden Sounds bis zu treibenden, hypnotischen Rock-Riffs steigert. Dabei bauen die Musiker faszinierende Klanglandschaften auf, ohne aber in reine Ambient- oder Chill-Musik abzudriften. Die Basis bleibt immer rockig und dringlich. Sich in den Sound hineinfallen zu lassen und dazu abzurocken ist hier immer ganz nah beieinander. Vergleiche mit Bands wie MOGWAI, MONO, THIS WILL DESTROY YOU oder RUSSIAN CIRCLES drängen sich beim Hören geradezu auf. Deren Intensität erreichen MY SLEEPING KARMA zugegebenermaßen nicht. Und trotzdem ist "Tri" ein tolles Album, auf das man sich zwar einlassen muss, das sich dann aber immer mehr öffnet und einen nicht mehr so schnell loslässt. Auch aufgeschlossene Stoner- und Prog-Fans könnten durchaus Gefallen daran finden.
Quelle
http://www.metal-inside.de

My Sleeping Karma –Tri
Review vom 13.10.10
Their website reads "My Sleeping Karma combines the organic aspect of psychedelic groove rock with emotional shades of aphasian landscapes". It sounds like high-brow stuff but its not really, this is just really good Space meets Stoner/Psychedelic groove rock of the highest order and with this, the third installment from My Sleeping Karma; the band have produced a Space Rocking album that is going to be hard to beat in the world of Cosmic, Progressive Stoner Rock. The German four-piece's instrumental spacey excursions have always been enjoyable, the last album "Satya" was one hell of an discovery when I first stumbled upon it being played in a Seattle music store but this album has taking the bands sound and style to its ultimate level, not only in terms of musicianship but also in the atmosphere the album creates. With Satya the themes were centered around Tibetan Buddhism while on Tri they seemed to have moved to Hinduism as all the tracks on "Tri" are named after a Hindu God.

As with the previous album, guitar player Seppi seems to be the force behind the songs, his guitar approach is organic as well as multi-dimensionally progressive. Influences range from Ash Ra Tempel to King Crimson to early Hawkwind or so at least it sounds like to me, this is clear to me on the albums opener "Brahama". This song flirts with Heavy Prog Rock and more traditional infectious Stoner Rock sections while the following "Parvati" is an very ethereal interlude setting up the mood for the third track "Tamas" which sounds like a long-lost Hawkwind jam, its very spacey but also energetic. "Sattva" in turn uses layers of synths before heading into one the albums highlights in "Shiva". The sonic experimentation crosses over many styles and sounds from early 70's Space Rock to the modern post-rock styles used extensively by Neurosis, Isis and Mogwai.

"Vishnu" kicks off the second half of the album in an introspective vibe before erupting into more cosmic goodness with "Lakshmi" which is another highlight and this high-point is maintained through the closing "Rajas" which is played out as epilogue of sorts to "Lakshmi" and then the album closes with the most complex track on the album in "Sarasvati". The Jazz Fusion overtones mixed with the Space Rock vibe really works well on this powerful closing number. A couple of points about this album and band; They strike an amazing balance between Space/Stoner Rock and Progressive Rock without really fitting into either genre, this produces a uniqueness to the band. The songs seem complex in the way they are constructed but the playing isn't overly technical so its really difficult to explain this band or give them a 100% accurate review. My Sleeping Karma will mean something different to every person that hears them and that is something unique right there. One thing is certain and that is the band have progressed much faster than most bands will ever do and where they will go next is going to be real interesting. Without a doubt this is one of the best Psychedelic/Space Rock type of albums released this year and at only 40 or so minutes in total running time means that this is a recording that takes no effort to listen to, it is a musically, captivating journey.....8.5/10
Quelle
http://www.doommantia.com/search/label/My%20Sleeping%20Karma

My Sleeping Karma –Tri
Monday, August 2nd, 2010 at 1:04 pm
My Sleeping Karma Come Awake with Tri
Although I'll always have a soft spot for My Sleeping Karma because their second album, Satya, was the first full-length I reviewed specifically for The Obelisk, it's the German four-piece's instrumental heavy psychedelia that endears them most of all. As Elektrohasch Schallplatten releases their third album, Tri, it's becoming clear just how much they embody the mission of the label. Not only are they all about the music, but like the best of Elektrohasch's acts (Colour Haze, Hypnos 69), they manage to subdue even at their most active – I'll stop short of saying aggressive, because there really isn't anything aggressive about what they do – moments. What was true on their My Sleeping Karma debut and on Satya remains true on Tri: My Sleeping Karma play hypnotic riff rock with psychedelic undertones, and as each album turns to the next, they're becoming among the best at what they do.
With Satya, the theme (brought out in the song titles and artwork) was Tibetan Buddhism, and while they still have a "Free Tibet" logo stamped on the inside of the Tri digipak, the band seems to have moved on to Hinduism, as each of the tracks on Tri is named for a Hindu god, starting with "Brahama," who created human beings, to "Sarasvati," a goddess in both Hinduism and Buddhism, who protects them. In between, the band makes note of several other gods, "Vishnu" and "Shiva" among them, while also touching on Hindu/Buddhist concepts of inaction in "Tamas" and purity "Sattva." Where they lie spiritually I honestly couldn't say, but some of the songs have the feel of chants, as though without actually using words, they're saying "Hare Brahama" through music, to get the god's attention and favor. At least that's how I like to think about it. You may have your own interpretation.
The often-effected guitar of Seppi leads the way for most of the songs on Tri, with bassist Matte backing in tones smooth and engaging and drummer Steffen grounding the songs when they need it, making the most of ghost-note snare hits and cymbals well placed in the mix. The focus with My Sleeping Karma isn't to be heavy. They're not trying to blow anyone's ears out, instead seeming geared toward a kind of spiritual exploration through music. It doesn't feel like happenstance these tracks are named the way they are, rather that the concept behind My Sleeping Karma is reaching another stage of its realization, keyboardist Norman fleshing out the songs along the way. They make sonic references along the way in a range of styles and subgenres, notably touching on European tour partner Brant Bjork with the sweetly-toned "Shiva" and the progression of Neurosis' "Crawl Back In" on "Takshmi." These tracks and the rest of Tri fully maintain a character of their own, however, with the sound of the bass and guitar being a big part of what separates My Sleeping Karma from the pack.
They border on the progressive, sonically, but My Sleeping Karma's heads are occupying a different space entirely, interested in neither putting on a clinic nor attending one. Rather, with a record like Tri, the band is creating the mood and atmosphere to best complement their own journey. It's kind of hard to explain, but the vibe on this record is that its own making is the point; the songs not only justify, but completely explain themselves and their being. Seppi, Matte, Steffen and Norman sound natural and plotted out at the same time, growing songs that are rich and complex without being overly technical, finding just the right balance so that they're not too much in one direction or the other. The harmony, it seems, comes in multiple forms on Tri, both spiritually and musically. For anyone who doesn't get down with spirituality in their music, don't pay attention to the titles or the art and you should be fine, as I imagine these tracks to be adaptable to whatever other reading you might want to give them. For me, it seems as though My Sleeping Karma has undergone tremendous growth over the course of their three albums, and that it can't be too long now before they're recognized as one of the finest bands crafting heavy psychedelia today.
Quelle
http://theobelisk.net/obelisk/2010/08/02/mysleepingkarmatrireview

My Sleeping Karma –Tri
Review vom 29.04.2010
Brahma, Vishnu, Shiva... die Hauptgötter des Hinduismus verkörpern Schöpfung, Erhaltung sowie die Kraft der Zerstörung/Umformung. Zusammengefasst im Trimurti könnte man auf den Titel des neuen
My Sleeping Karma
-Albums schließen. Ganz einfach ist "Tri" die dritte Platte der Augsburger Band
My Sleeping Karma
und bei der auf dem Coverfoto abgebildeten Göttlichkeit finden sich über den beiden Händen die Symbole der ersten beiden CDs
Same
sowie
Satya
.
My Sleeping Karma verfolgen ihren Erfolgstrend der ersten beiden Alben konsequent und zelebrieren eine psychedelische Musik zwischen Chillen sowie Rock. Die Band aus dem Südwesten Bayerns lässt sich richtig viel Zeit zum Aufbau von Stimmungen und Melodien. Was länger währt, ist eben gut beziehungsweise besser. Die insgesamt neun Songs erzeugen beim Hörer Spannung auf das, was so alles innerhalb der Nummern geschehen wird. Die Musik der Gruppe hat Magie und passt in keine Schablone.
My Sleeping Karma setzt seine Fantasien konsequent um und schöpft aus einem riesigen Ideenreichtum. "Tamas" verdeutlicht das Geschriebene in besonders deutlicher Weise. Langsam und ruhig beginnt das Stück. Die Gitarren wissen noch nicht genau, wohin der melodische Weg führen soll. Quasi als Initialzünder schaltet sich das Schlagzeug energischer ein und es wird im Folgenden kräftig gerockt.
Um die herrliche Melodie mit Nachdruck in die Synapsen zu verpflanzen, gönnt man sich eine weitere ruhigere Phase und dann baut die Band diesen unnachahmlichen Wechsel der Dynamik auf. Das ist großformatig arrangiert und zieht den Hörer in die akustische Welt der Süddeutschen.
Drei Songs sind im "Tri"-Zirkel etwas Besonderes. Von der Songlänge her fällt das Trio erst einmal aus dem Rahmen. "Parvati", "Vishnu" sowie "Rajas" sind nur um die zwei Minuten lang und halten sich zum größten Teil in ruhigeren Fahrwassern des Psychedelic Rocks auf. Die Keyboards spielen dabei eine bedeutende Rolle und der Grundtenor des Albums ist positiv. Die Musik atmet Frischluft und die rockigen Parts in den Songs lassen die Aschewolke des isländischen Vulkans Eyjafjallajökull (viel Spaß beim Aussprechen) im Handumdrehen verschwinden.
Mit "Vishnu" und "Shiva" tauchen ja schon zwei göttliche Figuren in den Songtiteln auf. Nicht anders verhält es sich mit dem letzten Track "Sarasvati". Neben "Tamas" geht es hier schon heftiger zur Sache. "Lakshmi", die hinduistische Göttin der Schönheit kommt bei My Sleeping Karma mit einer verträumten Zeitreise weg. Bis auf kleine, aber feine rhythmische Wechsel hat die Komposition schon etwas Hypnotisches in sich. Befindet man sich gerade in Trance, landet der Hörer von deftig aufspielenden Gitarrenakkorden wieder auf dem Boden und eine weitere spacige Reise nimmt bis zum Ende der Tracks seinen Anfang.
"Shiva" hat es in sich. Für ein ganz starkes Filetstück hat die Band zu Beginn eine klasse Würzung gefunden und überhaupt kann diese Nummer mit ihren rotierenden Gitarrenbergen ebenfalls zu den Gewinnern der CD gezählt werden.
Die Keyboards bieten eine meisterliche Leistung in Sachen sphärischer Klänge und für das Ende von "Sattva" hat man sich etwas ganz Feines einfallen lassen. Zwischen Radiorauschen tauchen immer wieder Schnipsel aus Songs auf. So etwas ist mal das etwas anders gewählte Finale eines in höheren Luftschichten angesiedelten Songs. So kann die Gruppe den Hörer auch wieder zurückholen.
My Sleeping Karma hat abermals einen genüsslichen Soundtrip für verwöhnte Ohren zusammengestellt und bei der Gestaltung des Digipaks ist man sich treu geblieben. Die Grundfarbe Weiß dominiert und was die Musik betrifft, wird man Ähnliches so schnell nicht finden. Das Quartett setzt Ausrufezeichen und entwickelt ein ausgesprochen eigenständiges, klangliches Markenzeichen. "Tri" ist eine dicke Empfehlung.
Line-up:
Seppi (guitar) I Norman (keyboards) I Matte (bass) I Steffen (drums)

Quelle

My Sleeping Karma –Tri
Review vom 12.04.2010 | 13:40
"ABDRIFTEN"
Alle paar Monate kommen sie und drehen flugs meinen gesamten Musikhörplan auf den Kopf: Platten, die sich so sehr von meinem üblichen Krach unterscheiden, dabei aber gleich dermaßen umwerfend klingen, dass sie alles andere, was sonst noch dieser Tage konsumiert werden wollte, hinfort gefegt wird. MY SLEEPING KARMA haben das mittlerweile zum zweiten Mal in Folge geschafft, ein paar werbende Worte dürften daher nicht unangebracht sein.

Den ersten großen Sympathiepunkt bekommt die Mannschaft schon deshalb, weil sie sich weigern, dem gängigen Einordnungsschema Diener zu sein: Psychedelischer Space Rock kommt hier genauso wie geschmackvoll ausgelegte Synthie-Klangteppiche [vor allem in Zwischenstücken wie "Vishnu"] zur Geltung, Stoner- sowie Doom-Metal-Zitate fallen hier ebenso an wie Anleihen an. Über das gesamte Material hinweg will man meinen, aus der Gitarre heraus eine Sitar zu vernehmen, die eigenständigen Bassläufe als auch der versierte Schlagzeuger tun ihr Übriges, um den Hörer in eine ganz eigene Klangwelt zu entführen. Erfreulicherweise haben die härteren, verzerrten Passagen im Vergleich zum letzten Mal etwas mehr Platz gewonnen, sodass Kracher wie "Lakshmi" oder mein persönlicher Favorit unter den längeren Stücken namens "Tamas" außerordentlich ausgeglichen zwischen akustischem Dahingleiten und konzentrierter Härte tönen. Besonders erfreulich und erstaunlich ist des Weiteren die Tatsache, dass die Platte zu keinem Zeitpunkt absackt, sondern im Gegenteil mit jeder Menge weiterer Höhepunkte aufwartet, zu deren Aufzählung ich jetzt aber zu faul bin. Stattdessen will ich mich damit begnügen, festzuhalten, dass derlei vollendete Scheiben wie "Tri" äußerst selten und deshalb umso wertvoller sind.

Appetit bekommen? Sehr gut, denn hier zahlt es sich wirklich aus, sich das Album physisch zuzulegen, das Artwork ist nämlich genauso schnieke geworden wie der eigentliche Inhalt selbst. Und wer die Tour verpasst hat, kann sich am 30. Mai im WDR Rockpalast von der Qualität dieser Truppe überzeugen.
Quelle
http://www.metalnews.de/?metalid=05&action=show&cdid=4632